As I am sure many of you know, a racist white male executive at Disneyland "created" Doritos to crush the Hispanic local tortilla chip inventor (Rebecca Carranza) and drive her family business under.
The headline in Popular Mechanics magazine saluted a manufacturing triumph in Los Angeles: "Tortillas Meet the Machine Age." It was 1950, and the El Zarape Tortilla Factory, among the first to automate the production of tortillas, had used a tortilla-making machine for three years.

Corn and flour disks poured off the conveyor belt more than 12 times faster than they could be made by hand. At first many came out "bent" or misshapen, as company President Rebecca Webb Carranza recalled decades later, and were thrown away.

For a family party in the late 1940s, Carranza cut some of the discarded tortillas into triangles and fried them. A hit with the relatives, the chips soon sold for a dime a bag at her Mexican delicatessen and factory at the corner of Jefferson Boulevard and Arlington Avenue in southwest Los Angeles.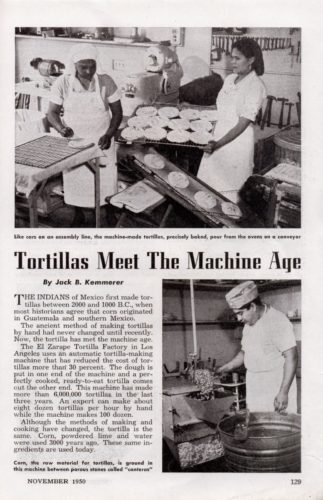 Ok, let's be honest. Nobody talks about her or how Disneyland crushed her with intention.
Here's the Disneyland side of the story just so we're clear here about racism and appropriation of others' ideas: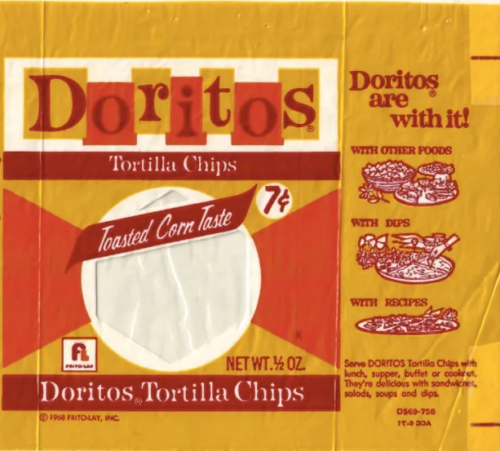 When Disneyland opened [in 1955], it featured a Mexican(ish) restaurant called Casa de Fritos run by the Frito company. It was on New Orleans Street, near another product-placement eatery: Aunt Jemima's Pancake House. It at the Casa de Fritos that the beloved Dorito was invented. Yes, really. Arch West, the Frito (later Frito-Lay) marketing executive credited with the product's creation, died in 2011 and was buried with a layer of his tasty legacy sprinkled over his ashes. The Dorito legend varies: one version has it that West discovered tasty tortilla chips at a roadside stand…
The Frito Company "Mexican(ish)" restaurant was NEXT TO AUNT JEMIMA?!
Need I say more about Disneyland executives?
So in 1964 West was running Frito's "Mexican(ish)" amusement park feature in "Frontierland" and he "discovered" tortilla chips at someone else's stand that had been popular in Los Angeles since the late 1940s.
He was on a family vacation in Southern California in 1964 when he first bought a grease-smeared bag of toasted tortillas at a roadside shack.
That's a quote from the Washington Post obituary for Arch West, which apparently didn't think twice about writing "grease-smeared" to describe Hispanic-Americans (historically a very derogatory term used by racist lynch mobs as well as California legislators who in a 1855 "Greaser Law" criminalized "Spanish and Indian blood").
West shamelessly copied the Carranza product and gave no money or credit to the inventor, let alone the stand.
Shameless appropriation.
But wait, let's go back a step into Frito Company history where West was an executive.
Frito was a company started by a white man who "discovered" corn chips made and sold by someone else.
In 1932, C.E. Doolin entered a small San Antonio cafe and purchased a bag of corn chips. After learning the manufacturer was eager to sell his business, he bought the recipe and started making Fritos corn chips in his mother's kitchen.
Do you believe Doolin "bought the recipe"?
I mean did Doolin while living with his mother and selling depression-era ice cream really fork out $100 in the middle of the great depression ($1500 today) for the recipe from his former boss (contrary to the story he just happened upon a newspaper ad, or just walked into a cafe one day)?
…purchased from Gustavo Olguin, a Mexican-American restaurant owner in San Antonio, where Doolin had worked as a fry cook. Olguin's "fritos" (the name came from the Spanish word frit, meaning fried) were small fried corn chips made from masa dough. Doolin bought the recipe, Olguin's hand-operated potato ricer, and nineteen customer accounts for the snack, all for $100.

And what made Gustavo Olguin rush to sell his "corn chips" business, hand over all his paying customers and flee to Mexico just as chips and snack foods were becoming widely popularized?
This sounds to me almost as bad as taking some 1812 European fairy tale and putting a copyright on it, or taking some 1843 European amusement park and building a copy of it… but I digress.
Fast forward to today, the genius of Carranza's tortilla automation machines and her invention of mass-produced tortilla chips are obscure at best for Americans, yet everyone can recognize Doritos.
Now a member of the insurrection against the US has raised a stir by supposedly wearing Doritos on his lapel.
A fabricated image was used to incorrectly accuse him of wearing a "Q hate symbol"… or is that correct, even tangentially?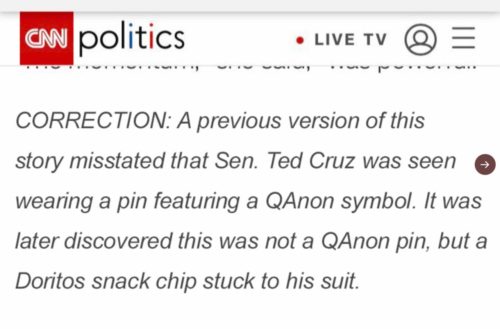 The "I love Doritos" response by the accused, instead of letting a correction of a correction stand on its own, perhaps clarifies everything.