You'd think by now nobody would want to own or be around a Tesla.
Their design flaws are putting everyone and everything near them at risk, dragging the entire car industry down.
Alas, Tesla owners this last week again have "mysteriously" crashed into homes. First in Sacramento. Then in San Ramon.
Laxmana Marpu said he was simply moving his Tesla Model Y from the entrance of his house into the garage when the car seemed to take over, eventually plowing into his home. Marpu said he was not on autopilot mode and believes the car accelerated on its own.
The latest case mentions causing damage in the hundreds of thousands of dollars.
Is that expensive for a Tesla owner who already paid too much money for a defective product well known to cause so much grief? The owner maybe feels lucky this Tesla didn't burn their house down or kill their children.
Those aren't hypothetical disasters, they're very real for Tesla owners. And looking at a case in Texas we see this is a very old problem unique to Tesla that they have been refusing for 15 years to fix with any transparency.
KXAN took the case to Dragan Djurdjanovic, a mechanical engineering professor and expert at the University of Texas at Austin. He investigated similar allegations against Tesla around 2008. "I was shocked when you came to me with this news. I thought, 'Not again!' Honestly," he said. Djurdjanovic said there may have been electromagnetic interference between the cables in the car. "You press the pedal and the electrical command goes to the car. And there could be a break in that electrical connection," he explained.
I've mentioned before here how Tesla "mysteriously" burst into flames and they "mysteriously" crash into poles, leading to astronomical death rates.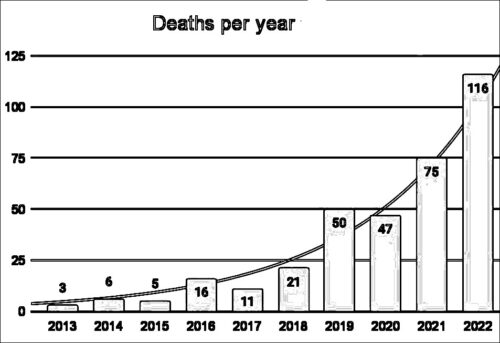 None of it is really any mystery.
According to the National Highway Traffic Safety Administration, unintended acceleration incidents happen in the United States at a rate of 1 per 100,000 vehicles per year. But issues with Tesla vehicles are too frequent to be dismissed by user error. For instance, within the first year of the Model X being released, 13 incidents of unintended acceleration were reported, when there were only 18,240 Model X vehicles on the road in the United States—a rate of 71 per 100,000 vehicles.
That's a horrible rate of failure from a design flaw, causing huge amounts of death and destruction.
Tesla wouldn't exist without fraud.
A big part of their fraud involves "cooked logs" that nobody but Tesla are allowed to collect and verify. Remember the Enron mystery of fault-free audits?
…a series of markedly similar crashes involving Tesla drivers attempting to park have been described in news reports, consumer complaints, or in legal filings.
If Tesla doesn't send real-time logs of car data to private personal data storage outside the control of Tesla, then don't believe a single word the company says.
The Enron CEO was sentenced to jail for less.
You know it's bad when insurance companies say Tesla blocks them from getting the data. And that's a huge problem. Who owns the car and who pays the insurance? Tesla is literally denying data owners access to their own data. Basically insurance companies need to start putting their foot down hard on anyone who even thinks about buying into the fraud of Tesla.
Depending on what city you live in, insurers are fed up and you might be out of luck. […] "This is a serious problem impacting our customers and the entire auto insurance industry, so we temporarily stopped writing new business in some states."
Of course a Tesla ban would make even more sense. They banned lawn darts right? And nobody ever said lawn darts should just sell their own insurance so don't even…
Update: NYC this time