In January of this year I mentioned how Tesla crashes were being reported as suicides.
You may remember also in January a doctor was accused of intentionally using a Tesla to try and kill himself and his family by driving off Devil's Slide cliff.
Now a medical examiner says a 41 year old psychiatrist from California used a Tesla to kill himself with blunt force on a remote and empty rural road in Spokane County, Washington.
Goodwin crashed his Tesla at the intersection of East Truax Road and East Old Truax Road. His cause of death was listed as blunt force injuries.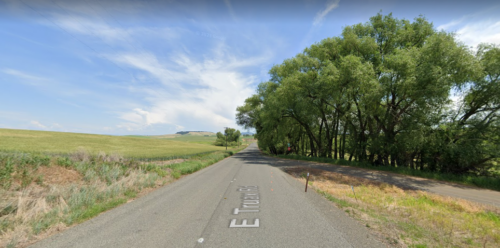 Other than old utility poles and the above small grove of trees, the poorly marked rural road runs through open fields with nothing to crash into.
Blunt force trauma suggests he accelerated off the road into a tree the same as other recent veered Tesla crashes in Michigan, and North Carolina. What is the probability he was asleep (drugged) while speeding on back roads and the known faulty "Autopilot" decided to veer suddenly?
Did the examiner assume lack of brakes applied meant suicide, failing to account for the common and long-standing symptoms of critical Tesla design failures?
Or perhaps that's the point, and this examiner is suggesting to us everyone in a "blaze your glory" Tesla at this point has to be assumed to be suicidal.
Goodwin had been investigated over several months for accusations of sexually assaulting drugged patients, losing his license more than a year ago. At least he harmed only himself in this latest assault, unlike the suicidal Tesla in Oregon whose "blaze of glory" just killed an innocent woman driving another car.